Scania Diagnos & Programmer 3 (SDP3) communicates with Scania vehicles and Scania industrial and marine engines. The program has been developed to support the electrical system with CAN communication.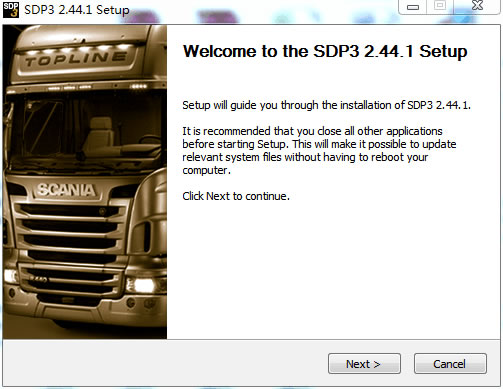 V2.43 SDP3 Support Operating System:
Win7 sp1 ultimate edition 32 or 64
Win7 pro sp1 just 32 bit
The program is used for troubleshooting, adjusting customer parameters, calibrations, conversions affecting the electrical system and updating software in control units.
Scania diagnostic software works with VCI 3 interface:
Highest level access
Internal Scania
Industry & Marine
Authorized Scania Workshops
Bodybuilder
Supported languages:
English, German, Spanish, French, Japanese, Dutch, Persian, Polish, Portuguese, Swedish, Norwegian, Suomi, Turkish, Italian, Czech, Russian, Chinese.
Scania SDP3 2.43 Features:
Check and adjustements
Conversion
Maintenance
Campaign
Bodywork
Fault Codes
Fault Reporting
Programming of Control units
Need Netframework 4.5 installed on system.
In order to install SDP3, administrator rights are required.
UPDATE ECA Please also see Scania Ti 04-14 02 16 for more information about background and regarding the update process.
Free download link:
https://mega.nz/file/SpBDxARY#WZ4VdAzlmndBDI-ILhO1-6T7dCdHmj08UmIdhi62H4E
If you need installation help, please click here:
Scania Diagnos & Programmer 3 2.44.1
How useful was this post?
Click on a star to rate it!
Average rating / 5. Vote count:
This Post:
Scania SDP3 2.44.1 Scania Diagnos & Programmer 3 V2.44.1 Free download
From
ChinaOBD2 Official Blog
Please keep this link if you copy the post!
Tags: cat diagnostic software DP3 lish ops program Scania SDP3 SDP3 wholesale