This illustration show you guide on how to perform bleeding for ZF-ASTRONIC transmission.
Related Contents:
ZF Testman Pro 10.5 Transmission Diagnostic Software Free Download
The transmission is fitted with a vent on the transmission actuator as standard. The vent should be protected from the ingress of large amounts of water. The vent must be clean; ensure that the
plastic cover is not fitted.
In the case of vehicles which are frequently cleaned with a water jet, moisture or moist air may be
drawn into the vent as a result of sudden transmission cooling, causing condensation to form inside the transmission. Also applications where the transmission is located in the water-expelling area of the rear wheels may be affected by this.
Since the proportion of water in the transmission oil must not exceed 1000 ppm, ZF recommends that rather than the standard vent, a hose-type vent be installed in the vehicle's dry compartment. The transmission's interface to the hose may be supplied having been fitted in the factory.
A retrofit kit for hose venting is available under ZF number 1315 298 021 from ZF Service.
This provides the best-possible protection for the transmission against water ingress. When using
this form of hose venting, the oil change interval for ECOFLUID M transmission oil increases.
Notes on the "dry compartment" and routing of the hose:
"Dry compartment" is defined as follows:
• Splash-protected
• Low air humidity
Example: trunk, battery compartment
The following should be noted when fitting the hose (also refer to sketch):
• Ensure that the hose exits the transmission vent horizontally (use angle screw connection if necessary).
• Route hose so that it rises continuously. A siphon effect should be avoided (see sketch).
• No kinks, chafing points. Route hose in the largest radius possible.
• Max. permissible hose temperature (e.g. near exhaust pipes, exhaust turbocharger) must not be exceeded.
• End of hose lowered by approx. 150 mm.
• Inside width of hose should be at least Ø 4 mm.
• The vehicle manufacturer is responsible for the correct fitting and routing of the hose.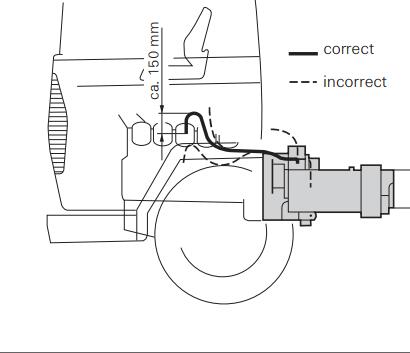 Fig: Guideline for routing a hose-typevent to the dry compartment
How useful was this post?
Click on a star to rate it!
Average rating / 5. Vote count:
This Post:
ZF-ASTRONIC Transmission Bleeding Guide
From
ChinaOBD2 Official Blog
Please keep this link if you copy the post!