This illustration show you steps on how to install timing gear and injection pump for Volvo D1 D2 marine diesel engine.
Related Contents:
2018 Volvo Penta VODIA5 5.2.50 Diagnostic Software Free Download
Volvo Penta EPC 6 2023 2016 Offline Free Download
STEPS:
1.Install the timing gear plate (1) with new gasket.
2.Oil the camshaft bearing surfaces and carefully lift the camshaft (2) into place, complete with drive gear and regulator weights.
Note. Be careful to avoid damaging the bearings,bearing tracks and camshaft lobes.
3.Install lock plate (3) for the camshaft in the correct position and torque it.
4.Put the key in place in the crankshaft and install the crankshaft pulley (4).
IMPORTANT! The components must be oiled before installation.
IMPORTANT! Make sure that the gear wheel markings coincide.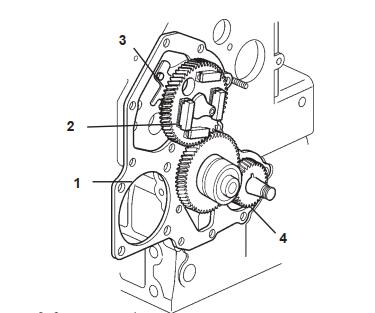 5.Install the thrust washer (5) on the idler wheel shaft stub. Install the idler wheel (6) in accordance with the markings.
NOTE! Do not turn the crankshaft before the timing gear cover has been installed.
6.Install the inner rotor (7) and the oil pump cover (8). Install shims (9), spring (10), spring washer
(11) and lock washer (12).
7.Adjust the oil pump end float (13) to 0.10 – 0.15 mm. Shims (9) are available in thicknesses of 0.10; 0.15; 0.20 and 0.50 mm.
8.Install a new, possibly adjusted gasket for the timing gear cover. Center the cover in front of the oil pump.
Note. Check that the tubular pin (14) in the timing cover can engage in the hole (15) in the oil pump cover.
Turn the cover back and forwards, and center it in the mid position. The stop arm (16) must be turned and held in place when the timing cover is installed.

9.Check that the starter spring (17) is correctly located in the timing cover, and is connected to the regulator arm (18).
Put the timing gear cover in place. Insert the regulator arm through the hole in the engine block.
Screw the timing gear cover down.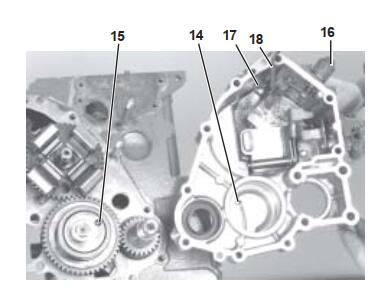 7.Turn the stop arm (19) clockwise and connect the arm (20) to the injection pump. Install the clip
(21)
NOTE! Be careful to ensure that the shim/gasket which was placed underneath the injection pump flange is put back, before the pump is placed in the block (applies when the pump has been removed).
8.Torque the injection pump, please refer to the"Technical Data" chapter for tightening torque.
9.Install a new front crankshaft seal, please refer to"Front crankshaft seal, changing". Put the key in place in the crankshaft and install the crankshaft pulley.
More case for Volvo Penta,please refer to Volvo Penta Trouble Repair
How useful was this post?
Click on a star to rate it!
Average rating / 5. Vote count:
This Post:
Volvo D1 D2 Marine Diesel Engine Timing Gear & Injection Pump Installation
From
ChinaOBD2 Official Blog
Please keep this link if you copy the post!