This post show you the steps on how to solve Detroit EPA07 GHG14 engine regeneration DOC outlet temperature unable to meet model delay.
Related Contents:
2023 Detroit Diesel Diagnostic Link DDDL 8.17 8.09 Free Download
JPRO DLA+ 2.0 Adapter
This instruction should only be completed if directed here from Regeneration troubleshooting.
Note:Complete steps in numerical order. If any of the items below have been previously inspected during this visit, do not inspect a second time.
Verification: Verify Parked Regeneration Completes
1.During the above high idle regen, monitor doser fuel line pressure when fuel cutoff valve is 100%. Is the doser fuel line pressure above 275 kPa (40 psi)?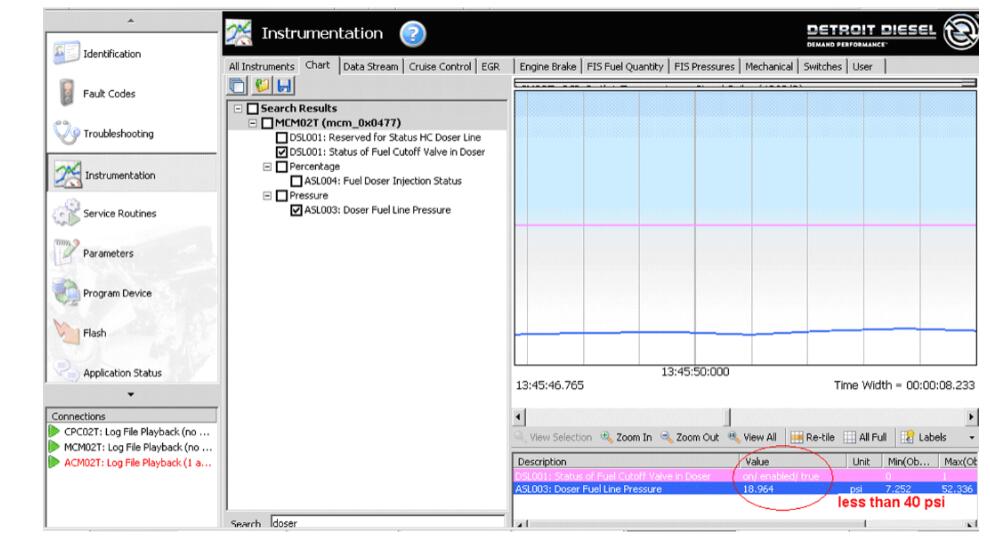 1a Yes; Go to step 2.
1b No; replace the HC doser block assembly. Refer to section "Removal of the Hydrocarbon Doser Block " , and then Go to step 2 Note : Soot can accumulate in the S-pipe under the fuel doser injector valve housing.
2.Inspect fuel line from the doser block assembly to the doser injector valve for kinks. Are there any kinks or damage?
2a Yes; replace the lines. Go to step 3.
2b No; replace the doser injector valve and clean the port in the S-pipe. Go to step 3.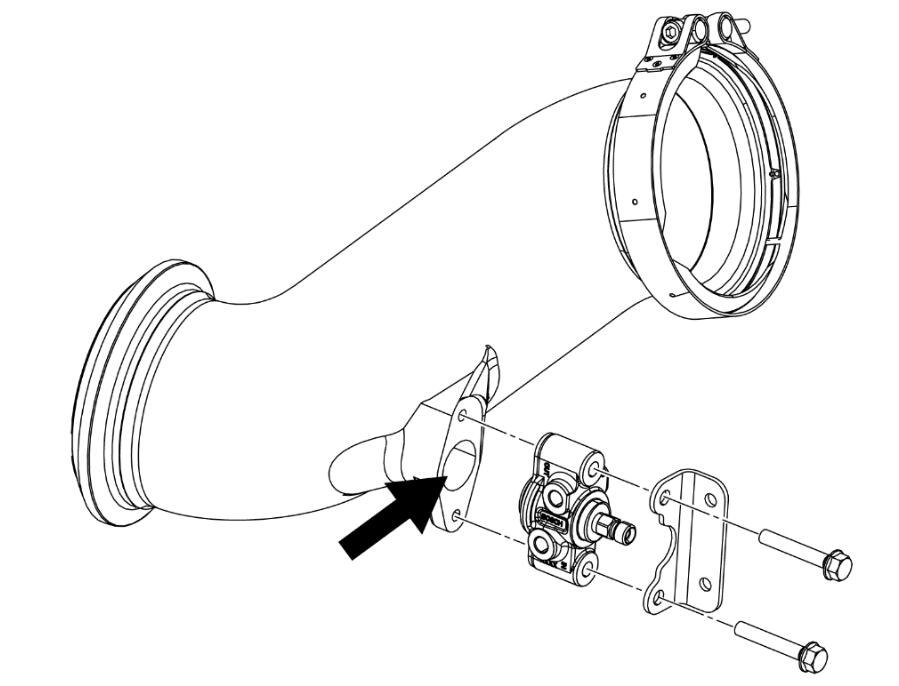 WARNING
PERSONAL INJURY
Diesel engine exhaust and some of its constituents are known to the State of California to cause cancer, birth defects, and other reproductive harm.
Always start and operate an engine in a well ventilated area.
If operating an engine in an enclosed area, vent the exhaust to the outside.
Do not modify or tamper with the exhaust system or emission control system.
WARNING
PERSONAL INJURY
To avoid injury before starting and running the engine, ensure the vehicle is parked on a level surface, parking brake is set, and the wheels are blocked.
WARNING
ENGINE EXHAUST
To avoid injury from inhaling engine exhaust, always operate the engine in a well-ventilated area. Engine exhaust is toxic.
Note : It may take up to three purge attempts to completely remove air from the system. Do not exceed three attempts.
3.Start the engine.
4.Using DiagnosticLink, perform a purge hydrocarbon doser service routine.
5.Initialize a high idle regeneration.
6.Using the chart tab in DiagnosticLink, monitor DOC outlet temp and DOC Model Delay. Is there a difference of +/- 55.5 ºC (100 ºF) in the last 2/3 of the regen?
6a Yes; remove the ATD and inspect for a pushed out diesel oxidation catalyst (DOC). Go to step 7.
6b No; verify operation by allowing the regeneration to complete and release the truck.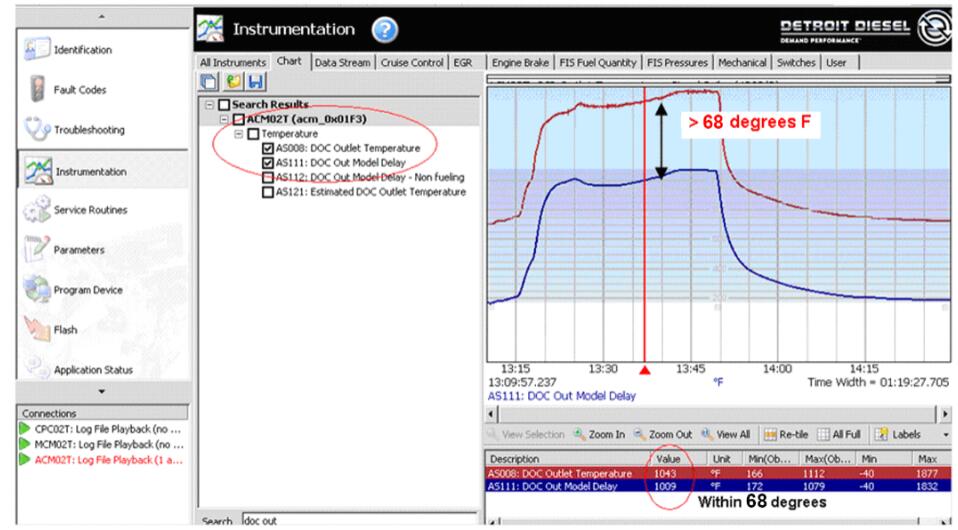 7.Is the diesel oxidation catalyst damaged or pushed?
7a Yes;
For a 1-Box, replace the DOC/SCR module.
For a Two-Box system, replace the DOC module. Refer to section "Heavy Duty Aftertreatment Failure Guide" .
7b No; Refer to section "Diesel Oxidation Catalyst Air Cleaning" . Replace plugged Diesel Particulate Filters (DPFs) if necessary. Go to step 8.
8.Perform a parked regeneration. Does the regeneration complete?
8a Yes; release the vehicle.
8b No; return to initial diagnostics that directed you to DOC Outlet Temp Unable To Meet Model Delay.
More repair cases for Detroit Diesel engines,please refer to:Detroit Diesel Engine Repair
How useful was this post?
Click on a star to rate it!
Average rating / 5. Vote count:
This Post:
Detroit GHG14 DOC Outlet Temperature Unable to Meet Model Delay Solution
From
ChinaOBD2 Official Blog
Please keep this link if you copy the post!