The input seal is located between the traction motor and the transaxle. The seal covers the transaxle input bearing and input pinion. The traction motor shaft slides through the center of the seal into the input pinion.This instruction show you guide on how to replace input seal for Yale G807 ERP18VT forklift truck. More repair case for Yale truck forklift,please refer to:YALE Forklift Trouble Repair.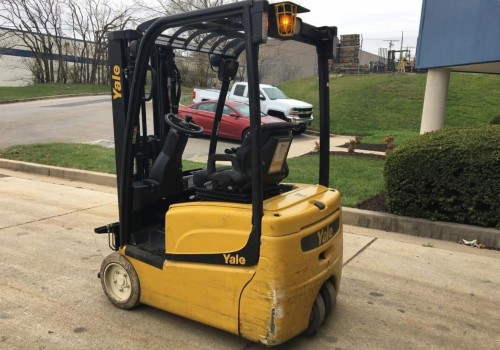 Related Contents:
2023 Yale PC Service Tool 5.1 4.9 Free Download
Hyster PC Service Tool 2021 2018 v4.97 v4.93 Free Download
Procedures:
WARNING
Cleaning solvents can be flammable and toxic and can cause skin irritation. When using cleaning
solvents, always follow the solvent manufacturer's recommended safety procedures.
WARNING
The traction motor is heavy. Be sure that all lifting devices are suitable and of adequate capacity to lift the traction motor.
1.Remove transaxle from lift truck. Remove parking brake and traction motor from transaxle.
CAUTION
The transaxle is heavy and can be difficult to stabilize when positioned with the studs down.
Securely support the transaxle in a stable position during these procedures.
2.Carefully position transaxle with drive tire mounting studs down. Support transaxle with wooden blocks to stabilize.
3.Use solvent to clean outside of transaxle before removing seal.
NOTE:Removal is destructive to the seal.
4.Puncture seal with a flat screwdriver (carefully near center of seal to avoid damaging bearing) and pry around the edge under the seal to remove from cover.
5.Clean around flange to remove any dirt or debris.
6.Install input seal using Yale input seal installation tool (refer to section General, Special Tools).
NOTE:It is recommended to verify the torque on the transaxle cover capscrews before reinstalling the traction motor. See section Cover to Housing Seal.
7.Lightly lubricate center of input seal with multipurpose grease to allow seal to seat properly on motor shaft. It is not necessary to lubricate traction motor shaft. Install traction motor on transaxle.
8.Install brake on traction motor. Install transaxle on lift truck.
How useful was this post?
Click on a star to rate it!
Average rating / 5. Vote count:
This Post:
How to Replace Input Seal for Yale G807 ERP18VT Forklift
From
ChinaOBD2 Official Blog
Please keep this link if you copy the post!