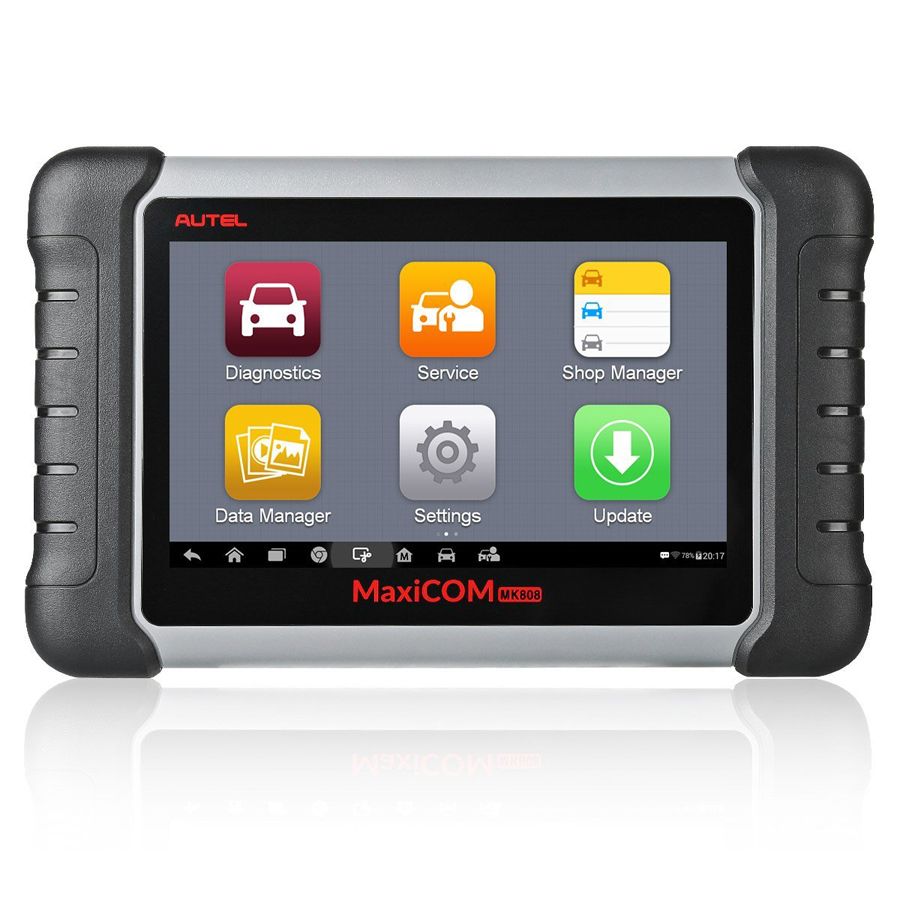 Promotion Autel Original MaxiCOM MK808 Diagnostic Tool 7-inch LCD Touch Screen Swift Diagnosis Functions of EPB/IMMO/DPF/SAS/TMPS and More, now only need US$499.00, and free shipping to America .
What's Autel Original MaxiCOM MK808 Diagnostic Tool?
Original Autel MaxiCOM MK808 OBD2 Diagnostic Scan Tool with All System and Service Functions
Top 5 Reasons to Get MaxiCOM MK808:
1. EASY-TO-USE: Once accessed to the Diagnostics service of MaxiCOM MK808, here are a variety of functions available including oil reset and EPB/BMS/SAS/ DPF service which are used for the safety and efficient maintenance of systems.
2. COST-EFFECTIVE: Compared with those at similar price, this automotive diagnostic scanner supports basic IMMO functions and TPMS Service, including displaying sensor IDs from vehicle's ECU, inputting TPMS sensor replacement IDs and registering sensors to vehicle.
3. SYSTEMS-DIAGNOSES: MaxiCOM MK808 works on most 1996 US-based, 2000 EU-based and newer vehicles to do the full systems diagnoses including reading/clearing codes and viewing live data to check the health status of parts.
4. USER-FRIENDLY: This is a tablet diagnostic scanner with 7"touchable screen and enables sensitive response with fast quad-core process; Moreover, with Wi-Fi connection there is no USB or card reader needed for updating software (one-touch updates)
5. WORRY-FREE: Provide you with 12-month warranty for any quality problems and 12-month free updates and newly added parameters and car models
Autel MaxiCOM MK808 Features:
Read/clear codes for all available systems
Display live data in text, graph & analog for easy data review
Auto VIN technology can automatically identify the vehicle's make, model and year information in no time
Relearn parking brake pad after replacement
Support IMMO functions
Support forced DPF regeneration and adjusting injectors
Reset Steering Angle Sensor (SAS)
Reset service mileage and service intervals
Support TPMS sensor relearn
Support battery registration and reset

Full Systems' Diagnoses to Detect Car ComprehensivelyThis diagnostic tool will give your car a full detection since it can read/clear DTCs and view data stream for ALL systems (ABS, SRS, Engine, Transmission, Brake System, Emission System, Fuel system, Light system, Wiper System…). To name just a few:
To diagnose Brake System if you feel the brake pedal is mushy and notice unusual odor or noise, etc. A properly operating brake system is critical to ensure safe vehicle control and operation;
To diagnose Emission System if the system is affected by vehicle age or poor quality fuel. A good emission system reduces harmful gases to a large degree and protects you from being fined;
To diagnose Fuel system if vehicle won't start or "Check Engine" light is illuminated. Check car's fuel system regularly ensures the best performance of your car with the lowest emissions;
To diagnose Transmission if your car is slipping or difficult to shift. The system plays an important part in the overall performance of your car;
To diagnose Wiper System if you observe chattering or streaking wiper. If the car is not regularly checked, accident might happen because you can't see clearly;
To diagnose Light System if you see rapid signal blinking or dimming lights.
Special Functions to Offer Maximum PraGMatism
Except for complete OBD2 functions of usual OBD2 scanner, this diagnostic scanner also supports special functions:
Oil reset to close the oil service light and reset service mileage & service interval after you replacing engine oil;
EPB reset to brake reset the new electronic parking brake for braking wheels safely again;
SAS reset to clear memories of the previous steering angle sensor and store the replaced one;
DPF service supports forced fuel injector regeneration and adjustment;
BMS service to reset battery management system;
ABS brake bleeding to get a firm brake pad after air exhaustion;
TPMS service to relearn TPMS sensors so that new sensors can be recognized by ECU;
IMMO (Anti-theft matching) to finish keys programming.
Attractive Features to Offer You User Friendly Usage
Keys Programming
By disabling the lost car key and programming the new car key, also called IMMO (Immobilization) service, this diagnostic tool can effectively protect your car from being stolen.
Technology Support
Shop Manger on this automotive scanner manages the workshop info for you; Data Manager allows you to store, print and review the saved files; MaxiFix Platform offers you various diagnostic resources. Also, you can get remote support from Autel's tech team.
Attractive Features
The diagnostic tool is a portable and multilingual automotive scan tool. It supports printing diagnostic reports wirelessly and updating new version on the internet conveniently.
MaxiCOM MK808 Specification:
Recommended Use
Indoor
Operating System
AndroidTM 4.4.4
Processor
Cortex-A9 processor (1.5 GHz)
Memory
32GB
Display
7-inch LCD capacitive touchscreen with 1024×600 resolution
Connectivity
Mini USB 2.0
USB 2.0
Wi-Fi
Micro SD card (supports up to 32GB)
Sensors
Ambient light sensor for brightness auto adjust
Audio Input/Output
Input: N/A
Output: Beep
Power and Battery
3.7 V/3200 mAh lithium-polymer battery
Charges via 5 VDC power supply
Tested Battery Life
Around 4.5 hours of continuous use
Battery Charging Input
5 V/1.5 A
Power Consumption
500 mA (LCD on with default brightness, Wi-Fi on) @3.7 V
Operating Temp.
0 to 55°C(14 to 131°F)
Storage Temp.
-20 to 60°C (-4 to 140°F)
Operating Humidity
5% – 95% non-condensing
Dimensions (W x H x D)
237.8 mm (9.4") x 148.6 mm (5.9") x 35.5 mm (1.4")
Net Weight
788 g (2.42 lb.)
Supported Automotive Protocols
ISO9141-2, ISO14230-2,ISO15765, K/L-Line, Flashing Code, SAE-J1850 VPW, SAE-J1850 PWM, ISO11898(Highspeed, Middlespeed, Lowspeed and Singlewire CAN,fault-tolerant CAN), SAE J2610,GM UART,UART Echo Byte Protocol, Honda Diag-H Protocol, TP2.0, TP1.6
Package list:
1pc x USB External Power Adapter
1pc x User Manual
1pc x Quick Reference Guide
1pc x Main cable
1pc x Carry case
1pc x Mini USB Cable
Go to Buy http://www.chinaobd2.com/wholesale/autel-original-maxicom-mk808-diagnostic-tool-5159.html
Related Products of Autel
How useful was this post?
Click on a star to rate it!
Average rating / 5. Vote count:
This Post:
Promotion Autel Original MaxiCOM MK808 Diagnostic Tool 7-inch LCD Touch Screen Swift Diagnosis Functions of EPB/IMMO/DPF/SAS/TMPS and More
From
ChinaOBD2 Official Blog
Please keep this link if you copy the post!
Tags: abs adapter AL519 Autel Autel AutoLink AL319 Autel MaxiCOM MK808BT Autel MaxiFlash Pro Autel MaxiVideo Autel MOT Pro Autel MOT Pro EU908 Autel Wireless AutoLink AL319 camera cat Code Reader Code Scanner Diagnostic Interface Diagnostic System DPF ds708 ECU Program ECU Programming eobd EOBD Code Read EU908 fcar gm Honda icom immo j2534 key Key Pro Key Programming Launch Main Test Cable MaxiCheck MaxiCOM MK808BT MaxiDiag MaxiFlash Pro MaxiScope MP408 maxisys MaxiSys MS908 MaxiTPMS PAD MaxiVideo MaxiVideo MV400 MD802 MS908 MaxiSys Diagnostic System OBD2 obdii OBDII 16Pin Main Test Cable OBDII Code Read OBDII Diagnostic Tool original PowerScan PowerScan PS100 program Promotion PS100 Service Reset Tool tablet Tablet Diagnostic Tool Tire Pressure Monitoring TPMS Diagnostic ts501 USB Cable vag vci VDM wholesale wireless