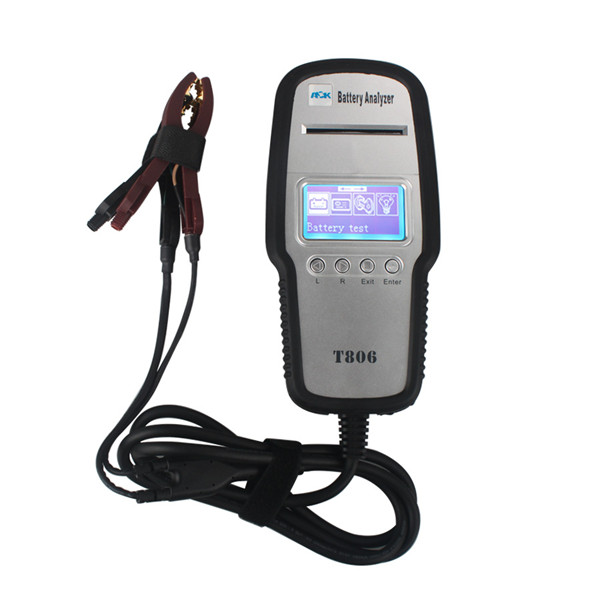 Top 5 Reasons to Get Auto Battery Analyzer T806:
Quickly test the battery's main specifications: Internal Resistance, CCA, Voltage, Electric quantity, Life-span.
Various standards build-in.
Adopt conductance method to test: convenient and safe.
Clock inside.
Printer inside, can print out testing results anytime.
Auto Battery Analyzer T806 Functions:
Battery Test for 12V battery.
Charging System Test
Start System Test
Max.load Test
Monitor the status of the start system of the vehicle
Test the change of the voltage when start the vehicle
Supportable standards:
CCA — 100~1700
IEC — 100~1000
EN — 100~1700
JIS — refer to the conversion table for CCA figures
DIN — 100~1000
If rating standard and range is unknown, the tester will show SOC(state of charge), internal resistance and the measured voltage but no the SOH(state of health).
Auto Battery Analyzer T806 Specifications:
Power supply:Powered by the battery being tested
Working temperature:0~40℃
Voltage range:6~18V
Shell meterial:ABS plastic
Display:LCD display
Dimension:340X85X233mm
Package List:
1pc x Printing Paper
1pc x Manual
1pc x Auto Battery Analyzer T806
1pc x Carry Case

T806 Battery Tester 12V Automotive Battery Analyzer with Printer
How useful was this post?
Click on a star to rate it!
Average rating / 5. Vote count:
This Post:
T806 Battery Tester 12V Automotive Battery Analyzer with Printer
From
ChinaOBD2 Official Blog
Please keep this link if you copy the post!
Tags: Battery Tester T806 T806 Battery Tester T806 Battery Tester with Printer