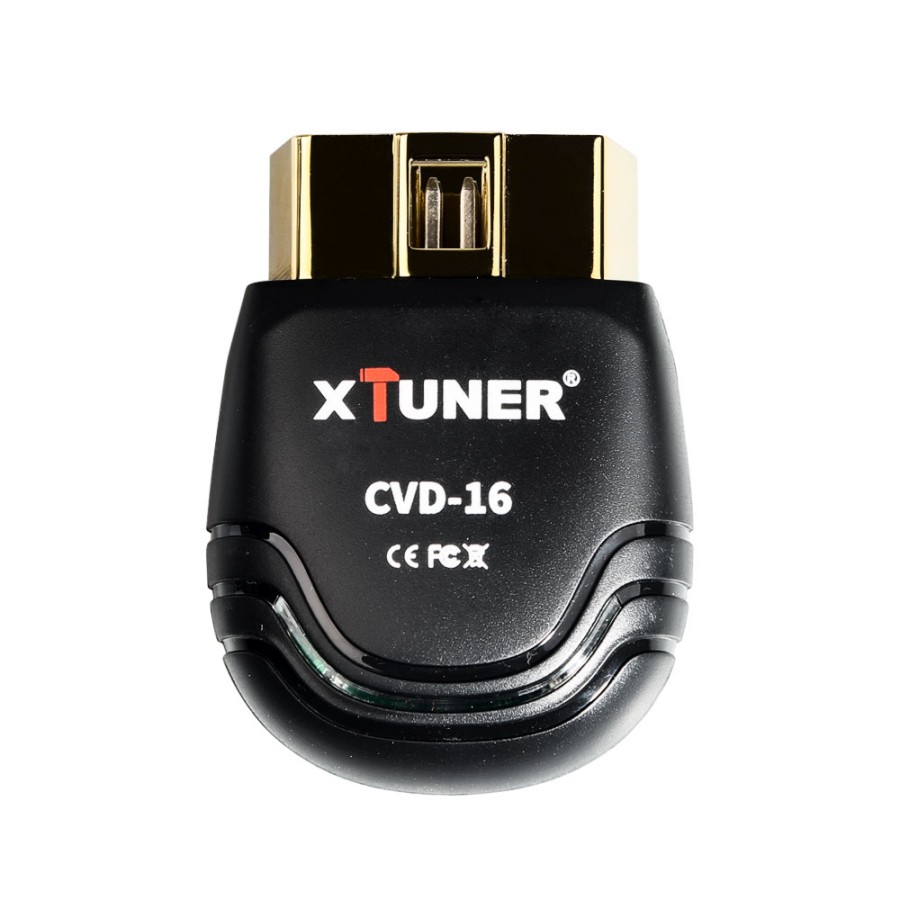 2018 New Released XTUNER CVD-16 V4.7 HD Diagnostic Adapter for Android
Top 9 Reasons to Buy XTUNER CVD-16:
1. Support Multilanguage include English, German, French, Korean, Spanish, Italian, Portuguese, Polish, Russian.
2. Support standard value of data stream for heavy duty vehicle.
3. Support online and offline DTC query.
4. Support online dictionary.
5. Support standard 6 pin and 9 pin diagnostic adapter.
6. The Adapter, made of industrial grade materials, is strong and durable.
7. Support one-key power cut.
8. Software online updatable.
9. Enhanced OBDII Mode 6.
Warranty: One year free for IDUTEX product hardware replacement and lifetime maintenance.
Software is free updating within 1 year, from the date of online automatically updating.
XTUNER CVD-16 Features:
The vehicle model and engine type can be auto detected.
It can display 99% of Heavy-Duty fault codes with detailed OEM level component and trailer descriptions.
Support OE Level Fault Code Information.
One key update/logging/quick test/test report/feedback functions.
Support data reference value mode, professional waveform display, instrument DIY function, and data stream analysis.
Hardware architecture uses a new design with multiple protection, interference and stability. Built-in over-voltage protection module is applied, in order to protect scanner and vehicle against accidental damage during checking.
Can work stably in high and low temperature environment, and work well.
XTUNER CVD-16 Functions List:
Auto detected by automatic VIN.
Read ECU Information, Data Stream.
Read and erase generic codes (P0, P2, P3 and U0).
Read freeze frame data, monitor and I/M readiness status.
Read vehicle information (VIN, CIN and CVN).
Read, store and playback live O2 sensor test data.
Read PCM live data stream, with professional graphic data Display, includes waveform and instrument mode.
XTUNER CVD-16 Vehicle List:
Gasoline Version: Chrysler, Ford, GM, Toyota, Lexus, Honda, Hyundai, Kia, Mazda, Mitsubishi, Nissan, Subaru, Suzuki, Abarth, Aston martin, Bugatti, Ferrari, Lamborghini, Maserti, Benz, BMW, VW, Audi, Seat, Skoda, Porsche, Jaguar, Landrover, Volvo, Saab, Alfa.
Diesel Version: Allison, Bendix, Caterpillar, Cummins, Detroit Diesel, Freightliner, Fuller, Haldex, International, John Deere, Mack, Mack 4, Mercedes Benz, Paccar, Pi, Psi, Takata, Volvo, Wabco, ZFMeritor, etc.
Passenger:All the passenger cars.
XTUNER CVD-16 Support System List:
Engine
Aerodynamic Control Unit
Aftertreatment System Gas Intake
Aftertreatment System Gas Outlet
Alternator/Electrical Charging System
Annunciator Unit
Atmospheric Sensor
Auxiliary Heater
Auxiliary Valve Control
Axle-Drive
Axle-Steering
Axle-Trailer
Base Unit (Radio Gateway to Fixed End)
Body Controller
Brake Stroke Alert Monitor
Brakes-Drive Axle
Brakes-Steer Axle
Brakes-Trailer
Bridge from SAE J1708 Drivetrain Link
Bus Chassis Identification Unit
Cab Climate Control
Cab Controller – Primary
Cab Controller – Secondary
Cab Display
Cargo Refrigeration/Heating, Trailer
Chassis Controller
Clutch/Converter Unit
Collision Avoidance Radar
Communication Unit
Cranking/Starting System
Cruise Control
Data Logging Computer
Diagnostic System
DPF Controller
Driveline Retarder
Driver Information Center
Electrical Charging System
Electrical System
Endurance Braking System
ERear Axle Steering Controller
Pneumatic System Controller
Tires Control Unit
Engine – Cruise Control
Engine – Vehicle Mgt System
Engine Oil Control System
Engine Retarder
Engine Value Controller
Entry Assist Control
Environment Monitor Unit / Auxiliary Cab Climate Control
Exhaust Emission Controller
Fan Drive Controller
Fare Collection Unit
Forward Road Image Processor
Front Door (Door #1) Status Unit
Fuel System
Fuel Tank Monitor
Headway Controller
High Speed Communications Unit
Hitch Control
Hydraulic Pump Controller
Idle Adjust System
Ignition Control Module
Information System Controller
Instrument Cluster
Intersection Preemption Emitter
Lighting – Operator Controls
Lighting Control Adminstrator Unit
Maintenance Printer
Management Computer
Middle Door (Door #2) Status Unit
Mobile Data Terminal
Multiplex
Off Vehicle Gateway
Off-board Diagnostics
Off-board Programming Station
Oil Sensor
On-Board Diagnostic Unit
Parking Brake Controller
Parking Heater
Particulate Trap System
Passenger Counter Unit
Pneumatic – System Controller
Power System Manager
Power Takeoff
Powertrain Control Module
Propulsion Battery Charger
Proximity Detector
Ramp Control
Rear Axle Steering Controller
Rear Door (Door #3) Status Unit
Refrigerant Management Protection and Diag.
Retarder-Driveline
Retarder-Engine
Retarder-Exhaust
Road Speed Indicator
Route Adherence Unit
Safety Restraint System
Schedule Adherence Unit
Seat Control
Shift Console
Silent Alarm Unit
Smart Card Terminal
Starter System
Steering Column Unit
Surveillance Microphone
Suspension
Tachograph
Tire Pressure Controller
Tractor-Trailor Bridge
Transmission
Trip Recorder
Turbocharger
Vehicle Control Head Touch Screen
Vehicle Dynamic Stability Controller
Vehicle Head Signs
Vehicle Logic Control Unit
Vehicle Management System #3
Vehicle Navigation
Vehicle Proximity
Vehicle Security
Vehicle Sensors to Data Converter
Vehicle Status Points Monitor Unit
Vehicle Turntable
Virtual Terminal (in cab)
Water Pump Controller
Weighing System
Axle Group
XTUNER CVD-16 Software Free Download:
CVD 16 client software First version released:
1. Professional Heavy-Duty, Light-Duty/Car systems diagnose.
2. Professional waveform analysis of data stream.
3. Professional instrumentation analysis of data stream.
4. Support data stream reference mode.
5. Online software update.
6. Online quick support.
Download link:XTUNER_CVD16_APK_V4.7.apk
XTUNER CVD-16 Support Protocol:
J1708,J1939,ISO 9141,ISO14230,ISO15765,SAE-J1850 VPW,SAE-J1850 PWM
XTUNER CVD-16 vs CVD-6 vs CVD-9 vs CVD-X
Product
CVD-6
CVD-9
CVD-16
CVD-X
Appearance
Protocol
J1708
J1708,J1939
J1708,J1939,ISO9141,ISO14230
ISO15765,SAE-J1850 VPW,
SAE-1850 PWM
J1708,J1939,ISO9141,ISO14230
ISO15765,SAE-J1850 VPW,
SAE-1850 PWM
Connector
OBD-6
OBD-9
OBD-16
OBD-16, OBD-9,OBD-6
Input Voltage
DC 8-26V
DC 8-26V
DC 8-26V
DC 8-26V
Year Model
1990 -2000 year
2000 – newest
1996 – newest
1990 – newest
Bluetooth
4.0 Classic
4.0 Classic
4.0 Classic
4.0 Classic
Operating
Android 4.0 and Above
Android 4.0 and Above
Android 4.0 and Above
Android 4.0 and Above
OBD/EOBD
√
√
CVD
√
√
√
√
I/M Reading
√
√
√
Freeze Frame
√
√
Waveform & Dashboard
√
√
√
√
Data playback
√
√
√
√
Data manager
√
√
√
√
Dictionary
√
√
√
√
Saved Reports
√
√
√
√
XTUNER CVD-16 Application: Commercial Vehicle,Passenger Car,I/M Readiness,IDUTEX Store,Quick Support,Data Playback,Dictionary,Feedback,Data Manage,User Info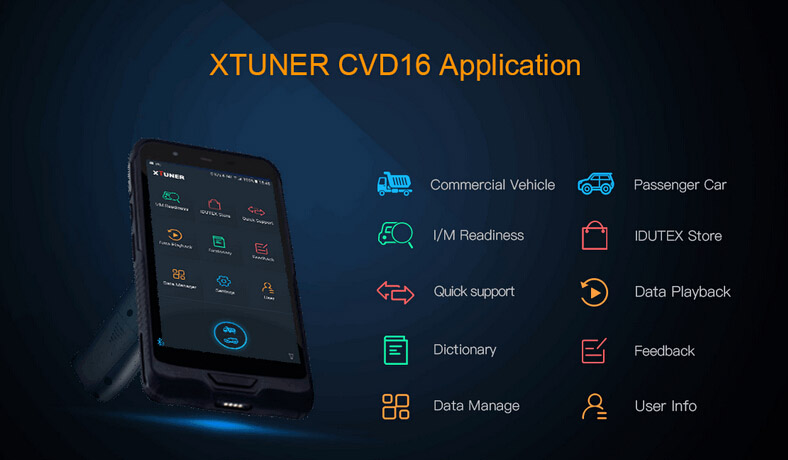 XTUNER CVD-16 Software Features:
System Auto Detected
The heavy-duty vehicle model and engine type can be auto detected by automatic VIN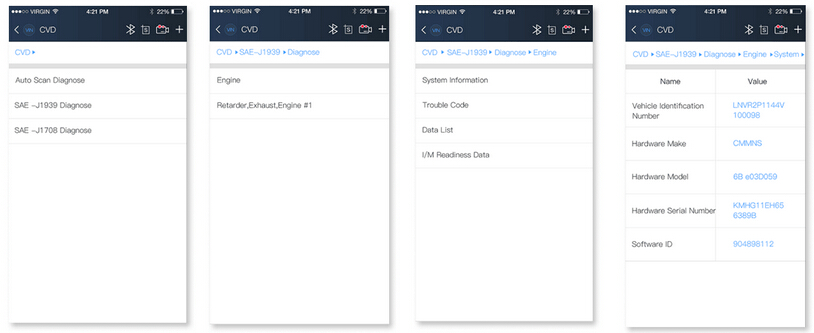 Smart I/M Monitor
I/M Monitor is a customized function,auto fast detection for status of all asensors to make sure its condition.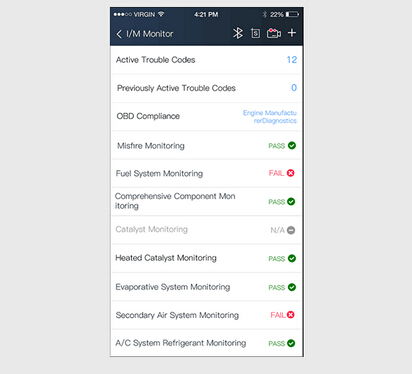 Professional Live Data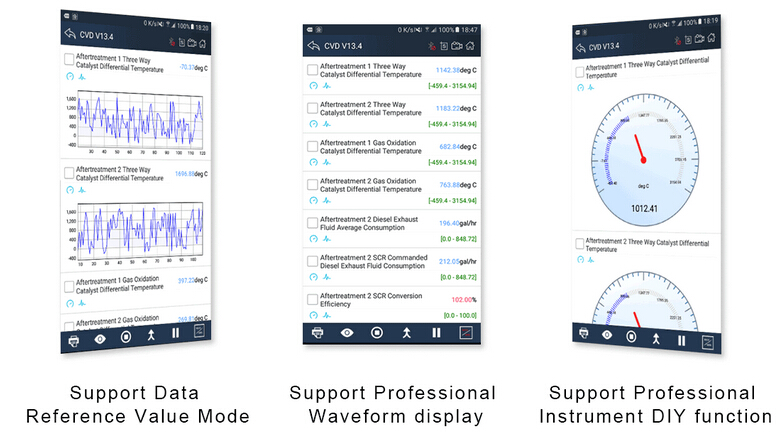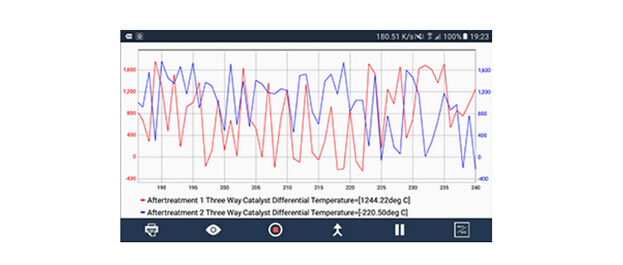 Support prefessional oscilloscope function,can analyze and compare the 2 data streams,and can also enlarge or minish the image of sample frequency and waveform amplitude to analyze the difference and changes in the wave form to fastly and accurately find out the cause of the vehicle fault.
DTC Query
Support DTC query,include online query and offline query,online query was provided by IDUTEX,while offline query was provided by the third party like Google and Baidu.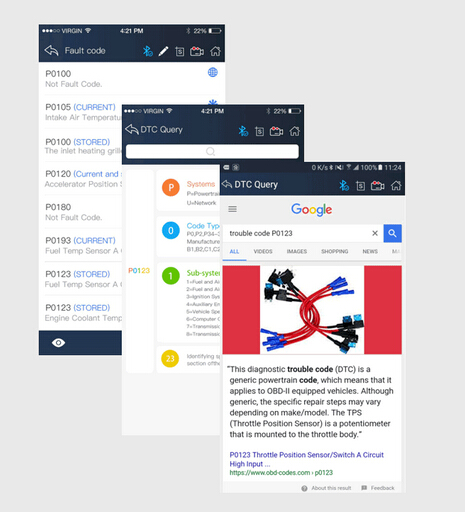 Quick Support:
Quick Support is a customized function,It is effective communicative bridge for user and enginner,improve efficiency of problem solveing.Users can send a remote request to engineer to check problems and ask questions through Team Viewer.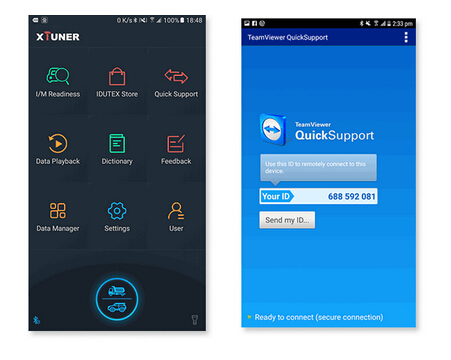 Online Dictionary
Support online dictionary,use third-party tools such as Google,Baidu and other browsing software to provide dictionary queries.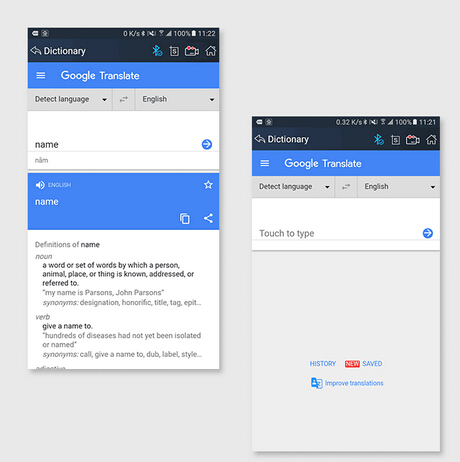 Data Manager:
Complete and comprehensive data manager,can manage vehicle APP,testing pictures,veideos and reports.Users can make effective management to hte files and storage.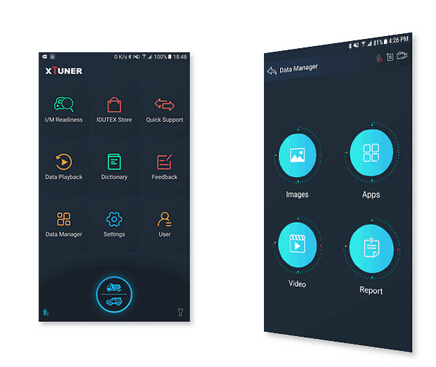 Feedback:
Feedback,it is a effective communicative bridge for user and engineer,improve efficiency of problem solving.Built-in smart and tiny CRM system,meet customer requirements.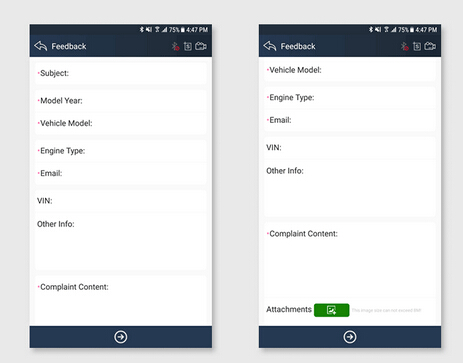 Data Palyback
Data Playback,the users can playback the data to quickly analyze the communication data between vehicle and diagnostic tools to find out the problem,and even convenient for DIY big data.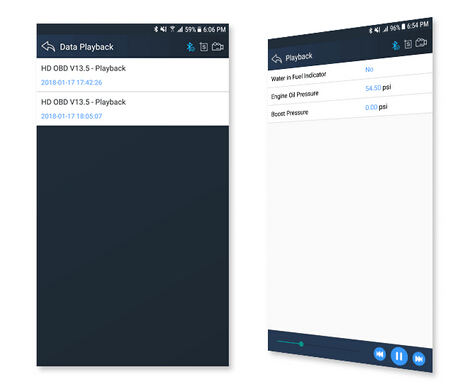 User Info:
Test can save customer business or personal information,includeing user name,email,country and city.Save the model information that customer tested,save the test data by using VIN and test tine as ID.Save customer SN and password,to facilitage customer inquiries and software upgrades.
Save the customer software download information,including the vehicle and system software download time,download the version number and the total times of downlaod.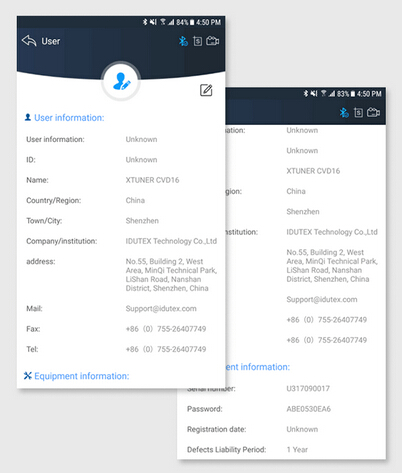 XTUNER CVD-16 Specifications:
Processor: ARM 32-bit Cortex Processor
Communications: Bluetooth
Operating Temperature: -10 to 70℃(14-158℉),Relative Humidity:<90%
Storage Temperature: -30 to 120℃(-22 to 248℉),Relative Humidity:<90%
Dimension: 108mm*108mm*55.3mm
Unit Weight: NW0.04kg(0.088lb) GW:0.1kg(0.4lb)
Connector: obd2-16
Input Voltage: DC 8-26V
Year Model: 1996-newest
Operating: Android 4.0 and above
XTUNER CVD-16 Package List:
Pack Box
XTUNER CVD-16 VCI
Quick Start Guide
Password Envelope


2018 New Released XTUNER CVD-16 V4.7 HD Diagnostic Adapter for Android
How useful was this post?
Click on a star to rate it!
Average rating / 5. Vote count:
This Post:
2018 New Released XTUNER CVD-16 V4.7 HD Diagnostic Adapter for Android
From
ChinaOBD2 Official Blog
Please keep this link if you copy the post!
Tags: HD Diagnostic Scanner new arrivals