What is Subaru FAST II EPC?
Subaru FAST II EPC contains the catalogue of spare parts for automobiles SUBARU with left and right hand drive, since 1984-85 years (depending on region). The catalog SUBARU FAST occupies three CDs or one DVD. Installation very simple, program occupies 8Mb at work with using CD, can work with use CD or to be completely installed on HDD. The catalog has the flexible interface, has a search by VIN, model, the name of a detail, information on replacements, also built – in function of definition of details of subjects to replacement after collision.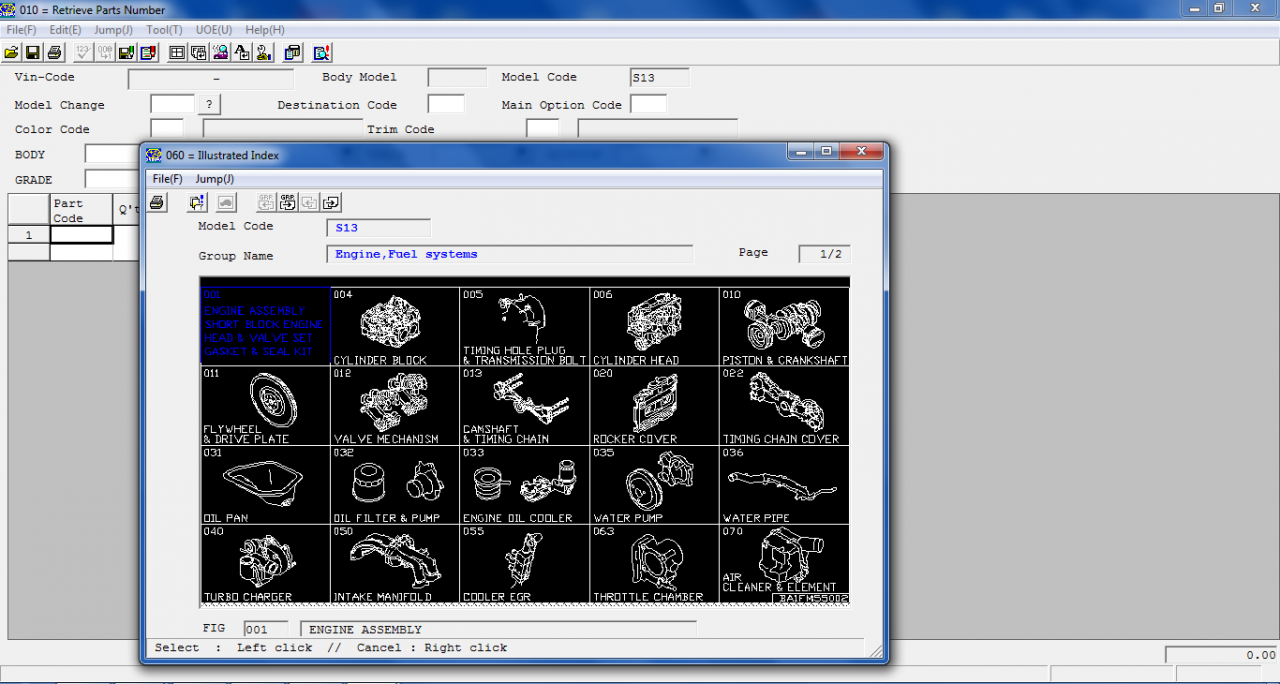 Subaru FAST II EPC Vehicle Models Cover:
A10 L SERIES (1985-1994)
B10 LEGACY (1989-1994)
B11 LEGACY (1993-1998)
B12 LEGACY (1998-2003)
B13 LEGACY (2003-)
C11 SVX (1992-1994)
C12 SVX (1993-1996)
D10 E SERIES (1986-1994)
D11 E12 (1992-1998)
G10 IMPREZA (1992-2002)
G11 IMPREZA (2000-2007)
G12 IMPREZA (2007-)
J10 J SERIES (1986-1995)
R10 M70andM60 (1987-1989)
R11 M80 (1989-1992)
R12 VIVIO (1992-1993)
R13 VIVIO (1993-2000)
S10 FORESTER (1997-2002)
S11 FORESTER (2002-2007)
S12 FORESTER (2007-)
W10 B9 TRIBECA (2006-)
Subaru FAST II EPC Installation Requirements:
OS.: Windows XP, Windows Vista, Windows 7, Windows 8, Windows 8.1, Windows 10
• CPU: Intel/AMD 1 GHz or higher
• RAM: 512 MB of system memory
• Hard Drive: 5 GB of available space
• Optical Drive: DVD-ROM
Subaru FAST II EPC Free Download:
This post is from China OBD2, Chinaobd2 is a leading supplier of all kinds of Car Diagnostic Tool, Truck Diagnostic Tool, OBD2 Code Reader, Car Key Programmer,ECU Chip Tunning,etc. The main popular diagnostic tools for workshop are:Vag COM, VAS5054A, GM Tech2, iProg+ Programmer, Orange 5 programmer, Scania VCI3, etc.
How useful was this post?
Click on a star to rate it!
Average rating / 5. Vote count:
This Post:
Subaru FAST II EPC Europe 2017 Free Download
From
ChinaOBD2 Official Blog
Please keep this link if you copy the post!
Tags: 4D Car Key Programmer cat Code Reader ECU Chip Tunning gm iprog key Key Pro OBD2 original program Scania VCI vci wholesale