What is BMW KSD software?
BMW KSD (Kaufmännische Service Daten, i.e. Commercial Service Data) is a collection of invaluable data for determining labor hours, inspection sheets and general service methods. There's also information about wheels and rims for the various models. It contains the full catalogue of flat rates, defect codes, service & repair packages, wheel/tyre combinations, snow chain. Allows vehicle identification by the VIN or by model selection.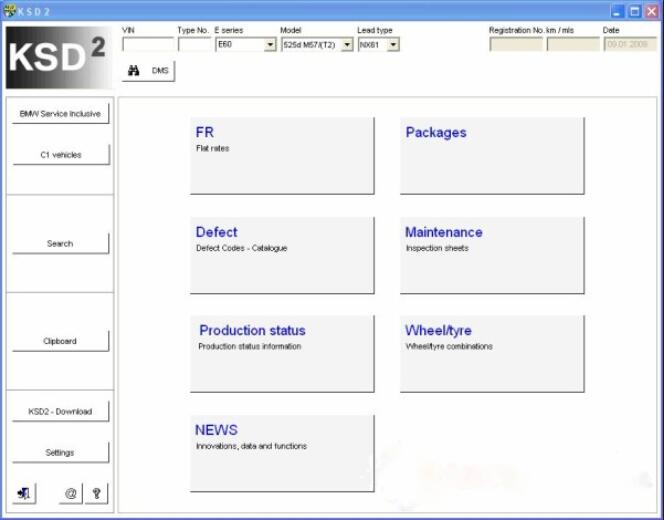 The electronic catalog BMW KSD 2 contains the dealer catalog of BMW norm-watches and expert ratings, all BMW series are presented.
In the electronic base of the BMW KSD, information has been presented since the 60s (114 series).In addition to the norm-hours, the program includes catalogs of repair service packages, combinations of disks and tires, winter and summer tires recommended for use.
Extras. Information: The installation MSI file, is put on the C drive
And for more BMW software,please check here:BMW Software Download
BMW KSD Software Support Languages :
Is entirely in ENGLISH (but you can use it also in German, French, Spanish, Portughese, Italian, Dutch, Swedish, Norwegian, Danish, Finnish, Russian, Czech, Sloven, Greek, Turkish, Japanese, Korean, Chinese, Indonesian )
BMW KSD models list:
C1 C1, C1-200
1′ E81, E82, E87, E88
3′ E36, E46, E90, E91, E92, E93
5′ E34, E39, E60, E61, F07, F10, F11, F18
6′ E63, E64
7′ E32, E38, E65, E66, E67, E68, F01, F02, F03, F04
8′ E31
X1 E84
X3 E83, F25
X5 E53, E70
X6 E71, E72
Z3 E36
Z4 E85, E86, E89
Z8 E52
MINI R50, R52, R53, R55, R56, R57
Rolce-Royce 1 Phantom Limited, 1 Phantom Limited EWB, 4 Ghost Limited, 2 Phantom Drophead Cabrio, 3 Phantom Coupe
Old BMW models:
1502-2002TII E114
2500-3.0 SI E03
3.0 CS-CSI E09
3′ E21, E30
5′ E12, E28
6′ E24
7′ E23
BMW KSD 05.2017 Free Download:
Year / Release Date: 2017
Version: 05.2017
Developer: BMW Group
Language: Multilingual (Russian is present)
Tabletka: not required
This post is from China OBD2, Chinaobd2 is a leading supplier of all kinds of Car Diagnostic Tool, Truck Diagnostic Tool, OBD2 Code Reader, Car Key Programmer,ECU Chip Tunning,etc. The main popular diagnostic tools for workshop are:Vag COM, VAS5054A, GM Tech2, iProg+ Programmer, Orange 5 programmer, Scania VCI3, etc.
How useful was this post?
Click on a star to rate it!
Average rating / 5. Vote count:
This Post:
BMW KSD Kaufmannische Service Daten Free Download
From
ChinaOBD2 Official Blog
Please keep this link if you copy the post!
Tags: Car Key Programmer cat Code Reader ECU Chip Tunning gm iprog key Key Pro OBD2 original program Scania VCI vci wholesale