What is MPPS ECU Software?
MPPS is a ECU programming/flashing software work with MPPS interface.It allow you access to read & write data,support checksum,and it also include many other features.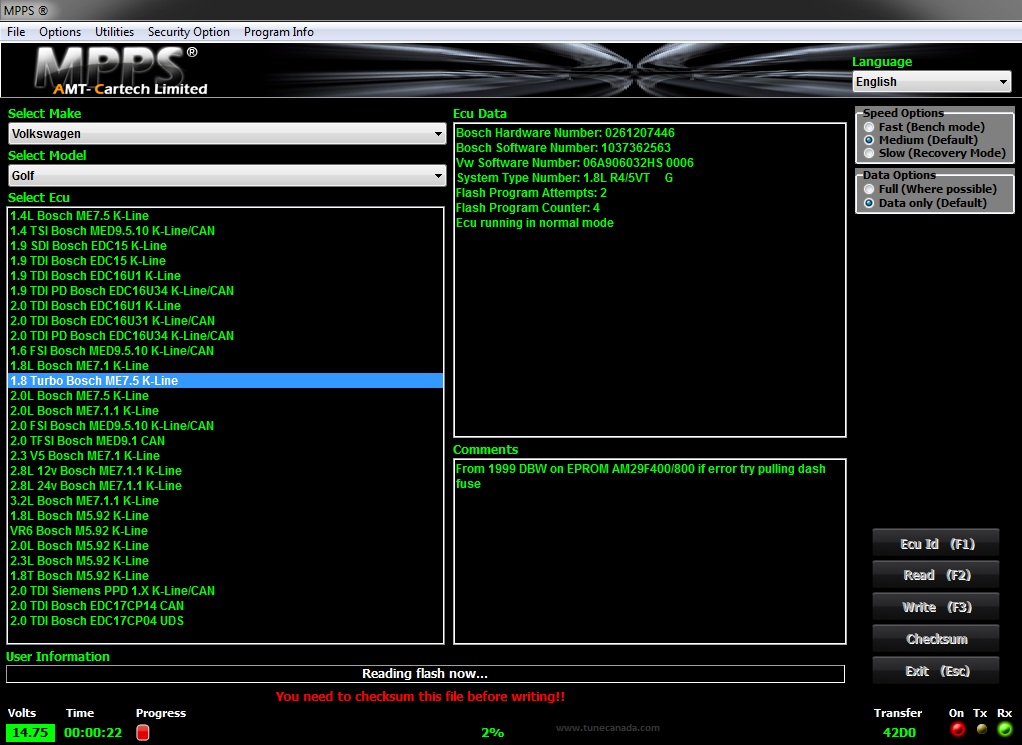 MPPS ECU Software Function & Features:
1.Recalculation of checksum
2.Read / write flash
3.Support Marelli ECU's
4.Auto detect ECU and processor type.No need to select from list,everything si automatic!
5.Read/Write of all memories eeprom,irom,xrom(where possible)
6.Patch function for OBD Flashing of TPROT ECU's (support only VAG at the moment)
7.TPROT/DS check feature,for testing if TPROT is actvie without opening ECU.
8.Supports Bosch up to TP12
9.Support for unlocking fo VAG Simens(current only for ECU's without password protection).
10.Support for unlocking of VAG Simos PCR and Simos 8.
11.Checksum correction supported for Bosch MEDC17.
12Recovey ECU (in some case)
MPPS ECU Software Support Languages:
English, Afrikaans, Albanees, Bahasa Melayu, Cech, Cymraeg, Deutsch, Esti, Espanol, Filipino, Finnish, Francais, Galego, German, Hrvatski, Indonesia, Italiano, Kiswahili, Latviesu, Lietuviskai, Magyar, Malti, Nederlands, Norsk, Polska, Portuguese, Rmoanian, Slovencina, Slovenski, Srpski, Suomea, Svensk, Turkish.
MPPS ECU Programmer Price:
Original MPPS Price:
Feature
Slave

(obd & Tricore)

Standalone Master
Master
Virtual Master
Price
$1000-$2000
$2500-$3500
$3000-$4000
$1000
Read from vehicle
√
√
√
×
Write to vehicle
√
√
√
×
Reads open/encrypted files
Encypted
Open
Open
N/A
Can have slave units
×
×
√
√
Auto Checksum
√
√
√
×
Checksum button
×
√
√
×
Online updates
√
√
√
×
MPPS V18 Clone Price €62.00–MPPS V18.12.3.8
MPPS V16 Clone Price $15.99–MPPS V16.1.02 ECU Chip Tuning Tool
MPPS ECU Software Free Download:
MPPS V22 Download:
The MPPS V22 download only available for original MPPS device,need buy on official website:
https://www.chinaobd2.com/
MPPS V21 Free Download:
https://mega.nz/#!9CAFhTpD!NRtyud2wia9n7-XSOnxTCvtDf69re1oT7V2SlnioqyU
MPPS V18 Free Download:
https://mega.nz/#!9Dpg3JwL!PFVR8bbMhC8HaDhBE075IP8iryOdbHDk3kkBNqmShiw
MPPS ECU Software Car List:
Alfa Romeo,Audi,BMW,Chevrolet,Citroen,Ducati,Ferrari,Fiat,Ford,Generic,Honda,Hyundai,Isuzu,Iveco,Jaguar,Jeep,Kia,KTM,Lancia,Land Rover,London Taxis International,Mazda,MCC-Smart,Mercedes Benz,MG,Mini,Nissan,Opel,Peugeot,Porsche,Renault,Saab,Seat,Skoda,Suzuki,Vauxhall,Volkswagen,Volvo.
MPPS V21 Car List Detail here
MPPS V18 Car List Detail here
MPPS New Update Note:
MPPS Update V22.0.5.22 (Only Original available)
Added Opel Vivaro EDC16 to the Database.
Added CRD3.1 checksum to MPPS.
Added PSA/Ford DCM3.5 eeprom R/W.
Added PSA DCM 3.4 R/W/Cks.
Added Smart ME7.7.0 EEprom boot mode.
VAG ME7.5 – Special mode added R/W/Cks Kline
VAG ME7.5 – Special mode added R/W/Cks Eeprom Kline
VAG MEDC17 drives will now show if the ecu has been OBD unlocked.
Updated Volvo ME7 checksum both internal and external.
Corrected Volvo ME7 comms problem.
Corrected Volvo EDC15C11 comms problem.
Updated Bosch checksum to do dual boot files.
Updated Mercedes ME2.8 seed key.
For MPPS Clone version can not support update.
MPPS ECU Software Reviews:
Astra h 1.9 tva off OBD and Zafira B 1.9 EGR off OFF ok, just choose read all( where avaible)
simos pcr 2.1 R/W obd ok
was unlocked few months ago with ktag
ME7.3.H4 boot mode read /write full OK
Peugeot 807 ECU DELPHI DCM 3.5 READ OBD OK
MED17.4 peugeot 207 read write ok
Citroen c5 DCM3.5 read write OBD ok, checksum ok
Opel cdti 1.7 ecu Denso R/W ok
Linea 2011 Marelli 6F3 read/write OBD Trought K-line, ( FG 54 read only flash trought CAN)
VW PCR 2.1 work v18 clone no problem
read and write on bench
Ford – SID206
Opel – EDC16C9/39,PSG16CANR/W OBD ok
Ford edc16c34 2.20 r/w ok
yesterday i have tested mpps v18 into myFord Focus 2 edc16c34.
read about 10 min and write 3-4 min
Focus, read 3 sectors about 10 min and write 4,20 min than wait 3 min.
after that 3 min i wait another 2 min, like software says
MPPS ECU Software FAQs:
Question 1:Does the MPPS-V16 work with Windows 7 or Windows 10
Answer 1: Yes, The version that we include (16.1.0.2) runs without the loader and works with Windows XP SP2 and 7 8 10 32/64 bit.Please note that older versions of other versions found online may not be compatible with Windows 7/10
Question 2: Will MPPS V18 read Jeep Cherokee EDC15 and EDC16 models?
Answer 2: Some bloger have reported issues with reading Chrysler Jeep Cherokee 2.8L 3.0L EDC16CP31 models. We don't recommend using MPPS V16 for these models at this time
Question 3:What is the difference Between Original and Clone?
Answer 3:Clone MPPS can not update,but with same function like original (if you buy clone mpps,you would better to ask for function you want,sometime clone mpps can not support some function as original).Clone MPPS is cheaper than original only $15-$100,but original over $2000.
This post is from China OBD2, Chinaobd2 is a leading supplier of all kinds of Car Diagnostic Tool, Truck Diagnostic Tool, OBD2 Code Reader, Car Key Programmer,ECU Chip Tunning,etc. The main popular diagnostic tools for workshop are:Vag COM, VAS5054A, GM Tech2, iProg+ Programmer, Orange 5 programmer, Scania VCI3, etc.
How useful was this post?
Click on a star to rate it!
Average rating / 5. Vote count:
This Post:
MPPS V22 V21 V18 V16 ECU Programming Software Free Download
From
ChinaOBD2 Official Blog
Please keep this link if you copy the post!
Tags: Car Key Programmer cat Citroen Code Reader ECU Chip Tunning ECU Program ECU Programme EDC17 Ford gm Honda iprog Jaguar key Key Pro Land Rover lish Mazda Mercedes Benz mpps MPPS V16 Nissan OBD2 original Peugeot Porsche program Renault Scania VCI Seat vci VW wholesale