Nissan TEANA J31 equipped with a new type advanced anti-theft system (ANTS),the ANTS which integrated into the BCM can recognize validity of immo start signal.BCM will control ECM to stop engine starting and injector injecting when it get a incorrect signal.In this article chinaobd2.com will show you how to initialize Nissan TEANA J31 immobilizer system.
Before starting programming keys for Nissan TEANA J31,you need to initialize system.We need AEN02 version to access immobilizer system to perform initialization for Consult-2 smart card.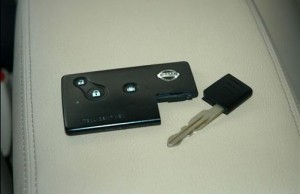 You need perform initialize immo in below situations:
1.After BCM replacement
2.After used ECM replacement
Note:When you replace a new ECM,it does not need to initialize,just ignition on,the ignition key will initialized automatically,it failure,you need to initialize key manually.
As the name implies,when an initialization is done, the previous key IDs will be cleared. After completing the initialization operations, you need to learn or register a new key ID, otherwise the vehicle will not start.
Before initialization,you need get a 4-digits PIN code which generated by a five digits BCM identification number.You need this calculator (Nissan SuperCode Calculator)
Access the system via AENO2C version and enter the initial "START" menu.
Perform a key reprogramming operation. Proceed as follows:
1.Select initialization mode,C/U INITALIZATION
2.Turn the key to the "ON" position.
3.Enter PIN code
4.Press the start button "START" to start the initialization program.
5.It will prompt you the "INITIALIZATION COMPLETED",it mean IMMO and ECU initialization completed,now ignition off.
6.Turn ignition back to "ON" again. Press "SELF-DIAG RESULTS"
Register Programming Key
Insert the first key into ignition and turn to ON position about 5 seconds,then turn off and pull out the first key.Repeat the procedures on the first key,you can register up to 5 working keys.
Start engine or open door to exit key register process…and then test on each key on car.
Nissan Immobilizer system fault codes
If you use a un-register key or invalid ID key to start engine over 5 time,the ECU will lock engine to turn protection mode.If you in this situation,you can not start engine,even you use register working key.Now you need to restart to perform initialization to unlock engine protection mode
This post is from China OBD2, Chinaobd2 is a leading supplier of all kinds of Car Diagnostic Tool, Truck Diagnostic Tool, OBD2 Code Reader, Car Key Programmer,ECU Chip Tunning,etc. The main popular diagnostic tools for workshop are:Vag COM, VAS5054A, GM Tech2, iProg+ Programmer, Orange 5 programmer, Scania VCI3, etc.
How useful was this post?
Click on a star to rate it!
Average rating / 5. Vote count:
This Post:
How to Initialize Nissan TEANA J31 Immobilizer System
From
ChinaOBD2 Official Blog
Please keep this link if you copy the post!
Tags: Car Key Programmer cat Code Reader ECU Chip Tunning gm immo Immobilizer iprog key Key Pro Nissan OBD2 original program Scania VCI smart smart card vci wholesale